Find everything!
Search Rainy Days
You can now easily search all Rainy Days entries with your favourite keywords! Not only the titles and texts, but the objects displayed in the images are included in the search as well! You can use any keyword of at least 3 characters long.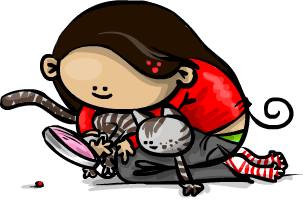 Have fun browsing through your favourite themes!
If you search on f.e. "autumn" you get the following results.
Search keyword: "
autumn
"
Entries found: 12
Your search results!

1. Rainy Days #100.
autumn wings
...aps I am.The love for autumn wind has given me blo...
»
2. Rainy Days #98.
autumn comes
It is still very hot in the Flatlands. Yet, autumn...
»

3. Rainy Days #191.
autumn breath
I love the scent of autumn, it's a deep moist one ...
»

6. Rainy Days #253.
Let's Swing
Hello world! It's been a long time, but it's Septe...
»
9. Rainy Days #188.
bea in the ivy
In spite of the warm weather, I know autumn is jus...
»
11. Rainy Days #102.
a good memory
The colours of autumn remind me of the window view...
»
12. Rainy Days #64.
a walk with the mist
The mist has descended to the grassy and soil colo...
»

About Rainy Days!
What do you do on a rainy day?
Mara Liem answers this question with her continuously growing series of illustrations going by the name Rainy Days.
Retreat into the fantastical world of Rainy Days, meet huggable teapots, naughty pillows, distressed laptops, comfy windows, toilet bowls and many other adorable characters and
enjoy the thoughts of a nerdy home hermit
. Poetic, humouristic and philosophical. Brightens even the sunnier days!
read more »
Search entries!
A Dozen Newest Rainy Days!
browse all »