FAQ!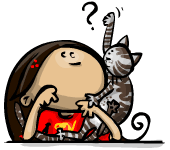 17 Frequently Asked Questions (and answers)
Click on a question to read the answer, click again to hide it.
Rainy Days first started as a trash bin blog for Mara Liem's doodles - drawings she'd create when the weather was so bad that she'd prefer to stay in and create a new world from her warm and cozy appartment - inspired by anything that caught her eye; pets, the window view, the crockery set, food, computers and devices, and anything else in close range. Main themes are shelter, friendship, hermitage and the imaginary.
After a while, the style developed into a more consistent one, and the subjects and objects in it - including the main character, although at first resembling Mara herself a lot - started to manifest more and more on their own. The blog turned into fiction.
The pages were rebuild as part of Mara's portfolio and extended with some nice additional features, such as the
sketchbook
with copies of analogue drawings, a
shop
, an
ecard service
, a
search engine
, an
RSS feed
and a
mailing list
.
Rainy Days is here to inspire, to emphasise the little things in life and to bring a smile upon your face.

About Rainy Days!
What do you do on a rainy day?
Mara Liem answers this question with her continuously growing series of illustrations going by the name Rainy Days.
Retreat into the fantastical world of Rainy Days, meet huggable teapots, naughty pillows, distressed laptops, comfy windows, toilet bowls and many other adorable characters and
enjoy the thoughts of a nerdy home hermit
. Poetic, humouristic and philosophical. Brightens even the sunnier days!
read more »
Search entries!
A Dozen Newest Rainy Days!
browse all »