#219 - may 16th 2009
the field
One More Thing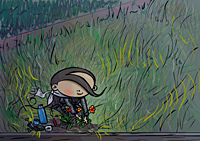 Twilight, on the verge of a storm rolling in, I dug and poured the water for poppies to root in the soil with ash.
Around, I strew one hundred seeds, so in a year, the field will be full of flowers.
That little rugged field between high, low and water ways, was his favourite place. Now the field will remember him like I do; full of colour.

Features!

Sketchbook - Rainy Days on paper
There's definitely something to say for old school analogue drawing. Check out this new column filled with artwork you've never seen before!
»

Shop & Support Rainy Days
Purchase a set of beautiful high quality postcards or be bold and buy yourself an original!
If there's anything particular you'd like to get a print of, you can make requests too.
»

Search - Find the Rainy Day you're looking for
Use the brand new search engine to browse Rainy Days with your favourite theme!
»
Send an ecard to your friends
Brighten up a friend's rainy day, or make it a little rainier - in a good way, of course.
Check out the new look and the bunch of brand new stamps!
»

Get all the scoops
Make sure you don't miss a thing and subscribe to the RSS feed or signup to the mailing list.
»
Find answers to all your questions
Read more about Rainy Days; how it all started and find answers to some very technical and practical questions.
»
Free downloads - Desktops
Buttons





About Rainy Days!
What do you do on a rainy day?
Mara Liem answers this question with her continuously growing series of illustrations going by the name Rainy Days.
Retreat into the fantastical world of Rainy Days, meet huggable teapots, naughty pillows, distressed laptops, comfy windows, toilet bowls and many other adorable characters and
enjoy the thoughts of a nerdy home hermit
. Poetic, humouristic and philosophical. Brightens even the sunnier days!
read more »
Search entries!
A Dozen Newest Rainy Days!
browse all »